HOLONAVI M10
Price inquiry(see details)
| | |
| --- | --- |
| Place of origin | Made in Korea |
| Shipping method | Shipping |
| Ship to | Korea, Republic of |
Its similar hologram can solve the coherence of sunlight, realize 3 colors, solve ghost phenomenon and reduce eye fatigue by using HUD grade hologram


"We show growth that strives to go to the main of convergence technology!"
01
You can't do anything when you are exhausted from super tired and tedious driving. This driving may cause car accidents and violation of traffic regulations. In order to prevent those situations, you need to get a "Holo navigation 1.0". Put a player on the navigation. Previous products that was not suitable for an interference of sunshine, effects of ghost image problem and even was hard for you to afford on the costs are now quite enhanced.
02
Patented Holo navigation is so effective at day time, and night time for sure. It is designed to use for any kind of smart phones and cars with a touch system. It has a function of voice recognition so you are no longer worried about traffic violations. See? you can watch the YouTube perfectly and keep eyes forward while driving at the same time, which means you are safe.
03
Our enterprise succeeded in Korea Cloud funding has a plan to upgrade the 1.0 navigation to 2.0 having motion sensors and by extension, we are planning on adding version 3.0 of the navigation functioning wireless charging. Our funding success is determined by accumulated order at current rate of our sales. With your funding, future driving are going to be safe, fun, and convenience. Get a Holo navigation right now at an affordable price bro!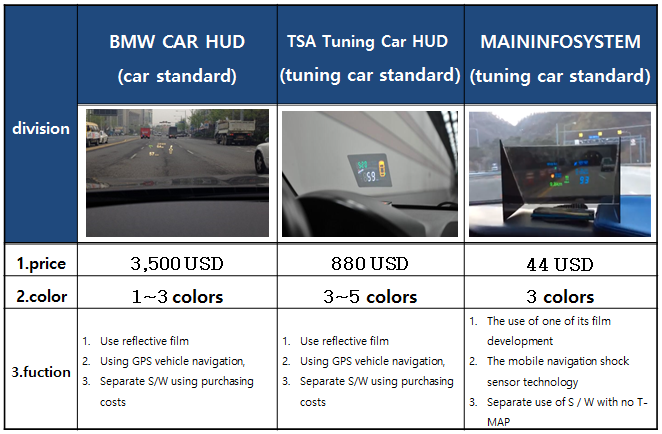 MAIN INFO
HUD HOLOGRAM NAVIGATION
Head-up display (HUD) products sold in Korea are laser holograms, which are different from similar holograms proposed and presented by our company.
Its similar hologram can solve the coherence of sunlight, realize 3 colors, solve ghost phenomenon and reduce eye fatigue by using HUD grade hologram.
Since the navigation program screen included in the mobile device is projected onto the final product through hologram technology, the price burden is up to 95% lower than before.